Çiğ Köfte, in English Raw Meatballs, has been in Turkish cuisine for more than three thousand years. It is one of the ancient food varieties of the Mesopotamian region. Its history traces back to King Nimrud who is a biblical figure known as the mighty one on the earth and the great-grandson of Noah.
This ancient food is made with bulgur, ground meat, tomato paste, pepper paste, pomegranate syrup, and lots of spices. It is made by mixing the all ingredients and that is it. You don't need to cook or do any further process to make Çiğ Köfte. This may sound like a very easy thing to do; however, it is not because you need to knead the ingredients for about one hour constantly with your palm to let the ingredients combine well with each other. This is the original Çiğ Köfte preparation method. Today, Cig Kofte (Turkish Raw Meatballs) is made with bulgur only because raw meat spoils very fast and it is not healthy to consume raw meat.
Most of the restaurants in Turkey consider Çiğ Köfte as meze. When you go to a Kebab restaurant, usually the waiter brings it right away before you give any single order. It is an on-the-house starter for most Turkish Kebab restaurants. Also, you don't need to go to a special restaurant to eat Cig Kofte in Turkey. You can find small food shops on the streets that sell it either on a plate or wrapped.

In Turkey, there is an unfinished debate going on for years regarding where the first Çiğ Köfte has been first made. One side says it is first made in Adıyaman city and the other side says Urfa city. For me, both cities have amazing local dishes, and thank you to whoever made this delicious food.
The Story of Çiğ Köfte
According to the rumors between the residents of Urfa and Adıyaman city; during the King Nimrod period, people were worshipping various Gods. Abraham tries to enlighten King Nimrod that this is wrong and there is only one God exists. King Nimrod thought that Abraham will be a threat to his kingdom by trying to illuminate people. He ordered to capture Abraham and burn him in a big fire in front of the villagers. For this, he ordered to collect of all the woods in the village. There has been no wood left in the village even for cooking.
While all these were happening; a hunter villager, who hasn't know King Nimrod's order, turns back to his home from hunting with a deer and tells his wife to cook something for dinner. His wife informs that the King collected the all wood in the village and nothing has left to light a fire. He tells his wife to do something with the meat otherwise it will get rotten. She takes some ingredients and cuts a piece of meat from the back of the deer leg. Then, she put them onto a stone and kneads them all night until the meat and ingredients combine well. This is how this magnificent taste has been born.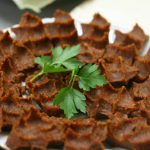 Çiğ Köfte
Ingredients
200

gr

minced meat (OPTIONAL)

2 1/2

cups

extra fine brown bulgur

1

cup

boiled water

1

bunch

fresh flat parsley leaves

finely chopped

1

medium size onion

finely chopped

3

spring onions

finely chopped

4

tbsp

red pepper flakes

finely crushed

2

tbsp

tomato paste

2

tbsp

pepper paste

2

teaspoon

salt

2

tbsp

pomegranate molasses

2

tbsp

vegetable oil

1/2

juice of half fresh lemon
Instructions
Place the extra fine bulgur in a cup and pour the boiling water on it and close the top of the cup with kitchen towel and wait 5 minutes. (This will help the bulgur to get soften and you won't need to knead long time).

Rinse the bulgur and place it together with the finely chopped onions, red pepper flakes and in a large round baking tray with 5-6 cm high sides. (Do not add spring onions and parsley leaves yet. We will add them later.)

Knead the mixture for 10 minutes with the base of your palm.


Add the minced meat (OPTIONAL), pepper paste, tomato paste, pomegranate molasses, lemon juice, salt and continue to knead 20 minutes until the bulgur fully soften.

Add the finly chopped spring onions, pasley leaves and 2 tbsp vegetable oil and knead 10 minutes. (Adding few ice cubes helps the Çiğ Köfte mixture not to get dry. It helps it to stay moisturized during kneading).


The mixture is ready when it becomes a smooth paste form. Then, grab a walnut-sized lump of the mixture and squeeze softly in your palm to give the special Çiğ Köfte form.

Line up them on serving plate and serve with lettuce leaves aside. You can use lettuce leaves as a wrapper.