Haydari is a traditional Turkish meze dish made from thick strained yogurt, fresh dill, mint, garlic, chopped walnuts, and feta cheese. It can be served as solely as meze, or as a side dish alongside kebabs and grilled meats.
In Turkish cuisine and Ottoman cuisine; mezes are divided into two types which are cold mezes and hot mezes. Haydari meze is considered one of the most beloved cold mezes. All yogurt lovers pick either Haydari, Atom meze, or Cacik if they are at a fine kebab or meat restaurant.
What is the difference between Cacik and Haydari?
Haydari is always made with strained yogurt and it has a thicker taste than Cacik. Also, Haydari contains cheese and walnut in it. On the hand, you can make Cacık with any type of yogurt and it always has a thinner taste than Haydari meze. In addition, Cacik has chopped cucumbers in it but Haydari doesn't.
Are there any other given names for Haydari Meze?
Nope. Haydari is the only known name; however, most foreigners, who visited Turkey and had a chance to eat Haydari at a restaurant, prefer to say Turkish Yogurt Dip instead of just saying Haydari. But in classic Turkish cuisine or Ottoman cuisine; we don't have a perception of dipping. We call this type of dish either meze or side dish. But, if you are watching a Super Bowl game, and you have chips on the table then you can consume Haydari meze as a dip.
How many types of Haydari exist?
When it comes to Turkish cuisine dishes, variations have no limits. Some prefer their Haydari meze with walnuts and some without. The core ingredients of Haydari are strained yogurt, fresh dill, mint, feta cheese, and olive oil. You can consider chopped walnuts as a common add-on. As long as you stick to the core ingredients, you will always reach for the original taste of Haydari meze.

Where to eat Haydari?
Haydari meze is a common meze that you can find in almost any fine kebab or meat restaurant in Turkey. However, you may not find Haydari meze at a fish restaurant in Turkey. It is because there is a strong belief in Turkish culture that if you eat 3-4 days old yogurt with fish, you may get sick. If you ask me, I don't agree with this belief because I tested myself and nothing bad happened. Maybe it is just a myth but it is how it is.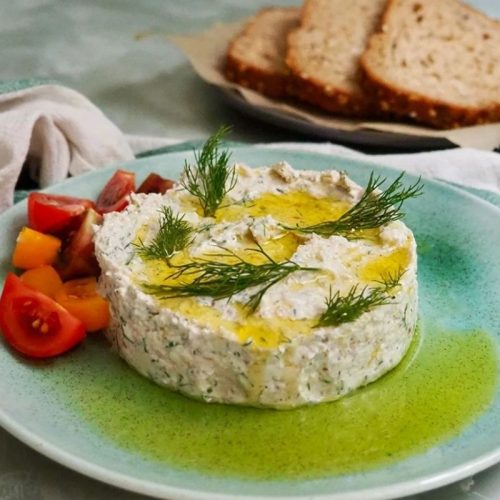 Haydari
Ingredients
6

tbsp

Strained Yogurt

1/2

cup

Walnut shells

crushed

1

slice

Feta cheese

4

tbsp

Olive oil

3

Bunch of dills

1

Clove of garlic

minced

1

teaspoon

Ground Mint leaves

1/2

teaspoon

Salt
Instructions
Place the olive oil in a pan, and bring the heat to medium. Add the crushed walnut shells and sauté for 2 minutes. Then set it aside and leave it to cool.

Remove dill leaves from the stems. Rinse the dill leaves. And then drain the water with help of a strainer and chop them finely.

Place the feta cheese in a bowl and mash it with a fork.

In a separate bowl, add the strained yogurt, mashed feta cheese, finely chopped dill leaves, dried mint, minced garlic, salt, and sautéd crushed walnut shells, and then mix them well with the fork.

Place the mix on a serving plate
Recipe Notes
Garnish it with olive oil drops and a pinch of dill leaves.